Stricken Desire
by
SK Logsdon
Book Blurb:
Innocent, twenty-four year old Emily Bronwyn is thrown into the world of Rock N Roll. When her best friend Stacy calls upon her to help him co-manage Stricken's, music tour. It doesn't take long for her to bump heads with the hottest rock star on the planet. Stricken's lead singer Johnathan Striker who's most famous for being a womanizing male whore. But what he doesn't realize is, he's just met his match. When Emily refuses to tolerate his mouthy antics or bed him. Even though it's hard to resist the charms of such a handsome and infuriating man.

Returning home to Indiana during a short tour break, Emily gets shoved into a different life she never thought possible. Passion is the new driver in her life and her innocence is officially a thing of the past. What will she do now? But embrace the new cards she's been dealt.

Book One- Stricken Series.

Caution: This book contains heavy adult sexual content, profanity and bisexuality. For audiences 18+

(Stay tuned for Stricken Unveiled this book is not HEA.. yet)
Review:
Reviewers Note: I received this eARC from the author in exchange for an honest review while participating in the
Holiday Party Blog Tour
with
I ♥ Bookie Nookie Reviews
.

3 Super Star Stars!

The Review:
This review is going to be a mix of good and bad. First, lets start with the good. I really enjoyed the characters. The innocent girl, desperate to make it in a situation thats a make it or break it kind of deal who meets the quintessential bad boy who is also a complete man whore. When Emily and Jonathan first meet, sparks fly and not in a good way. They clashed from the beginning as Emily stood up to him and didn't take any of his mouthy crap, no matter how hot he was. She was strong willed and didn't let the all male situation intimidate her into a shrinking violet. I loved this about her. I'm a huge fan of strong female leads and she definitely was. Jonathan was cool, collected and a smart ass but when he started to fall, it was hard and fast. Something about Emily sucked him right in and in his conflicted way, tried to get to actually know her.. but of course he still wanted her in his bed.

The story... I really enjoyed the story. Who doesn't love a hard rocker who's taken by the innocent girl with a will of iron? Its a traditional story wrapped in unique situations and a wonderful cast. And steamy?? Yes please! Love me some steam and this had plenty to go around!

BUT here's the rub! This book would have warranted a higher rating if their had been a better editing job. Sentence structure is very important for a reader. We get emotions, timing, personality and scene points from proper punctuation. Without it, a reader is left wondering how to play the scene in their minds. This book had a LOT of errors in punctuation, grammar and some of the dialogue needed culling through and reformatting. Some of the lines came off in a different way then I know they were intended, and it was all due to grammar.

The Wrap Up:
I love hot rock stars stories who fall for the unsuspecting girl. And this book was just that kind of read. I loved the story. I loved the characters. But a knowledgeable editor can do wonders for a manuscript and I'd love to re-read this one after its been gone over carefully and fixed. I think I'd definitely give it higher marks.
About the Author:
S.K Logsdon is the author of three series; Stricken Rock, Attraction, and The Circle of Blood. She writes erotic romance novels, full of steam, unpredictability and sass.

A stay at home mom for the past nine years, S.K Logsdon loves her three daughters and three step-kids. Is an avid TV show junkie, book addict and coupon queen.
Social Links:
Website
●
Facebook
●
Goodreads
Buy Links:
Amazon
● B&N
● Smashwords
● Kobo
Tour Coordinator: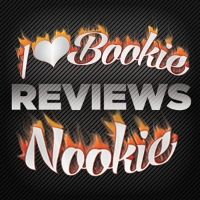 Please check out the other stops on this tour today:
Check out the entire schedule of the 18 Holiday Party Blog Tour stops & participating bloggers HERE.