NOTE: Subject Material May Not Be Suitable For Anyone Under 18!!!
Title: Enthrall
Series: Enthrall Sessions
Series Placement: #1
Author: Vanessa Fewings
Genre: Adult, Erotic, Contemporary
Release Date: August 20, 2013
Format: Ebook and Paperback
This is the world of the forbidden. This is the embrace of Enthrall.

Mia Lauren is a single, twenty-one-year old working in a West Hollywood art store who dreams of one day becoming a fashion designer. When an unexpected offer arises to work at Enthrall, L.A.'s premier fetish club for the wealthy, Mia accepts. It's a salary beyond her wildest imagination.

Mia becomes the secretary to the club's assistant director, blond and broody Richard Booth. Richard is not only one of L.A.'s most beautiful and wealthiest men, he is also the club's senior dominant. Mia is both drawn and terrified when he reveals flashes of his white-hot passion, threatening an unbound pleasure like no other. She knows her attraction may be her undoing, but the spellbinding feelings render her powerless to resist his advances.

What Mia cannot know is that Enthrall's dashing director thirty-year-old Cameron Cole, who is also the club's psychiatrist, has lured Mia to save his best friend and patient Richard from his obsession with thrill seeking. Cameron masterfully sets up sexy scenarios to ensure the collision of Richard and Mia, hoping that love will save him.

However, despite Cameron's noble intentions, he also finds himself enticed by Mia's haunting innocence. Passion and pleasure stir, forming a dangerous love triangle. This is the world of the forbidden. This is the embrace of Enthrall.

********************

He is nothing short of a miracle in my life. I'm not sure I'll survive him.

Blond and broody, the sweetest soul, the darkest nature. I am swept up into Richard's world only to discover...the closer you get to the pleasure, the easier the pain finds you. Frees you.
Reviewers Note: I received this eARC from the author in exchange for an honest review.
5 Sultry, Enthralling Stars!
A Provocative and Thrilling Read! Simply Irresistible from Beginning to End!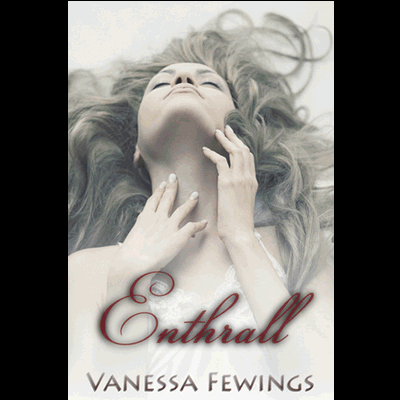 The Review:
There are some books that are so masterfully done that when you hit that last page, you want to instantly go back to the beginning and relive the experience all over again. For me, this is one of those books. As soon as I was done, I couldn't help but want to go back to the first page and relive all the sensational, gripping moments once more.

Story...
BDSM. Some would call it a dark, forbidden path, steeped in debauchery and wickedness. Other would say it is enlightenment, freeing one's inhibitions and reservations. And then there are those who know nothing of its existence at all. But for Enthralls employees and members, its a necessary in life. In some cases, its a way to expel the pain life heaps on them and in other cases, its a way to enjoy one's proclivities in a healthy, consensual way.

Characters...
This book was filled to the rim with fascinating, well developed characters. Both main and sub's were fun, entertaining and full of life.

Mia...
Mia Lauren is young, beautiful and innocent. She's also drowning in debt as she takes on the responsibilities of her ailing stepmothers medical bills. So when her friend Tara tells her about the position she just left as secretary to a private, swanky kink club called Enthrall, Mia jumps at the chance to apply knowing she'll never get that kind of pay working the shift jobs she's currently employed at. When she interviews, she quickly realizes just how out of her element she is, but if they are willing to give her a chance, she'll do just about anything to prove she can do the job required.

When she enters the heady, dizzying world of Enthrall where dark fantasies are fulfilled and certain appetites realized, her innocence shines like a beacon to those who cross that dark domain, most notably, her boss Richard and his best friend Cameron. This unveiled world in turn, peaks her interest and arouses her curiosity and she herself is drawn to the life she never knew existed.

I really liked Mia. Yes, she was innocent and naive, but she was also open minded and was willing to embrace her desires no matter how forbidden they might be. Her story isn't just one of indulgence though. She has some real issues to overcome and her willingness to understand herself as well as those around her and to let both Richard and Cameron help, made her character more real.

Watching her submit to Richard was a beautiful thing. She still carried her dignity and her individuality but she wanted to let Richard take the reins and help her find her submissive side.

Richard...
Richard Booth is wealthy, intelligent and incredibly handsome. He's also shrouded in secrets and a dark past that has left him emotionally crippled. When he meets Mia, he wants nothing to do with her, desperately pushing her away. But there is something about her he can't entirely let go. She shines in a bleak world that is filled with misery and drowning pain and he wants to grab onto her like a life preserver. But he's terrified of what his darkness is capable of. He's tortured and intense and yet he still seeks the light.
Quote Spotlight...
He peered down at me with his noble, intelligent face. The kind that hints at good breeding, as though both his parents had been stunners. Like he'd stepped off the cover of a yachting magazine, all suntan and privilege. Yes, beautiful, that was it, and rugged at the same time. An hypnotic combo.

I really liked Richard. He was complicated, sarcastic and sometimes severe but he wasn't bitter nor intentionally cruel. He still had heart even after the horrific things in his past. He transformed his anger and hurt into daring exploits and adventures and he found a way to settle the demons in his mind. He is still drowning in self loathing but with Mia, those feelings started to fade into the background. My heart broke for him but I loved his strength and his dominant personality. He was totally delish!

Cameron...
And then there's Cameron Cole! Sexy, intelligent, fascinating. This man stole the spotlight for me.
Quote Spotlight...
There was something sensually alluring about him too. Dangerous. As though he knew of his effect and could turn it up a notch just to amuse himself.

Cameron comes from old money and he knows what his good looks, his charm and his complex personality does to people. He has a way of working through problems that may seem calculated and shocking but if you take the time to look past the surface, you'll see the concern, the love and the need for his extreme actions. He's highly intelligent, seeming to have a plan and course of action for every event that unfolds. He's devoted to his best friend Richard and he loves fiercely, knowing the end, justifies the means. He doesn't hide who he is but he's also clouded in mystery. He seems like an anti-hero, then he seems like a genuine friend but all the while, he's smoldering hot, sexy as sin and just all around yummy! I can't wait to read more about him. The triangle between him, Mia and Richard fascinated me and left me wanting and craving more!
Quote Spotlight...
"There are people here whose predilections threaten you in every conceivable way. Do.You.Understand?"
"Yes."
"If they so much as lay their eyes on you they'll devour you." His grip tightened. "Like I want to right now."
My sudden gasp made him shudder.


"You are the most beautiful creature I've ever seen and until now I've been able to give you up to Richard." He slowed his breathing."Until now."

I mean see?!? That quote alone should have you running to the "Buy me NOW" button!

The Women...
The "Girls" in leather were fun and I loved their friendship to Mia. The way they circled around and protected her and took her under their wings was caring and brilliant. I love strong, dominant women who can hold their own and these women were certainly that. I also really liked the bff's, Bailey and Tara. I want a girls night out with all of them! I can only imagine the shenanigans we'd all get up to!

The Wrap Up:
Enthrall delighted and seduced me. The story was delicious, the characters sexy and the romance captivating! I can't wait for book two. I want to know how this story unfolds and where ALL the characters are headed, especially Richard, Mia and Cameron.
Quote Spotlight...
He shifted closer. "What do you see?"
"That you want this as much as I do."
"Some things are inevitable." His expression softened, his face now serene. "I have so much to show you."
"I want that."
"Mia." He narrowed his gaze, his intensity returning. "Are you truly ready for such blinding pleasure?"
A flurry of what felt like butterflies burst out of my chest. Tingles of excitement caused me to shiver, and an exquisite ache in my belly settled low. In the deepest depths of my soul I felt ready for this, for him.
"Its good we're not alone," he said.
"Not that it matters," I said. "I only see you."
Quote Spotlight...
"Humans are made from the stars," he whispered. "Did you know that? I truly believe that you and I come from the exact same star. That star split off a millennia ago into a thousand pieces and yet we've found each other by some remarkable twist of fate. That's why it's only now, after reuniting with you all these centuries later, that I feel whole again."
"Home," I said. "I feel like I've come home for the very first time."
Quote Spotlight...
..."You realize what it is I want to do to you?"
"Yes."...."You want to dominate me."
"Subjugate you." He stepped closer. "Control you. Conquer you." His left hand rested against my chest and he eased back against the wall again and pressed hard. "Fuck you."
Oh please...
Quote Spotlight...
"Do you know what enthrall means?" he said.
"Mesmerize."
"Enslave."
A stirring of desire took me over.
....
"Next time I bring you down here," he said, disrupting my thoughts as he opened a door to a smaller room, "you will wear a collar."
Quote Spotlight...
I let out the softest sign of realization and his lips met mine, kissing me firmly, opening my mouth wide as his tongue masterfully tangled with mine...
Claiming his submissive.
Buy the Book!

"Let's check it out," said Cameron.
"I'm not allowed." I raised my hand to let him know I had no intention of going anywhere near there.
"Don't be ridiculous," he said, calling the lift. "You're with me."
The doors parted and we stared into an open elevator.
Cameron strolled on in and gestured for me to join him. "It's safer. I don't want to leave you up here alone."
"What do you mean?"
"If someone did break in they may be up here now."
I leaped in and with a push of a button we descended.
"Shouldn't we call the police?" I said.
"They have a knack for spoiling all the fun."
"Do you really think someone has broken in?"
"No."
"Oh."
He shrugged.
"Will you explain this to Richard for me," I said.
"Of course."
"I'm actually kind of intrigued." I felt a jolt of excitement.
Tara had been right about the deep red walls. Soft lighting fell upon the five pieces of furniture, if you could call them that. More appropriately they were beautifully carved, dark stained contraptions. A table positioned in the middle had reams of fine silver chains hanging over it, reaching all the way to the floor. To its right stood a crisscrossed wooden panel with leather handcuffs on either side to stretch out the victim's arms. Upon the wall hung an assortment of equipment, including paddles, whips, and blindfolds. A chest pushed up against the far wall hid what was probably more torturous accruements. I resisted the urge to take a peek.
What looked like a stock out of the Middle Ages was easily countered by the elegant throne, a velvet cushion before it. To its right hung an enormous steel cage, and farther along more contraptions rested on shelves: silver-link chains, ropes, blindfolds, gags, and what looked like a black pair of gloves with spiked fingertips.
This place set medieval devices against modern in the most startling way. No wonder Richard didn't want me down here. He probably assumed I'd have bolted on my first day. Yet the soft scent of sandalwood and the womblike aura felt surprisingly calming. My lightheadedness muddled my brain. This risqué decor stirred feelings that had lain dormant, the thrill of delicious intrigue, a throb low in my belly that had no right to make me believe any of this was okay.
A door at the end of the room promised to lead off to more rooms of pain. There was no getting over this was a dangerous place to be in, and how anyone would voluntarily want to be strapped into any of these baffled me.
I turned to see Mistress Scarlet step out of the shadows. Her dominatrix outfit was a mixture of leather and latex. Her gothic-styled eyeliner and mascara highlighting her eyes, and her rouged lips, sharp cheekbones and hair worn back accentuated her commanding presence.
"Hi Scarlet," I said, hoping that glare of hers wasn't anger at me for being down here.
"Mia," she said, tapping the whip in her other hand. "Cameron."
There came an unsettling feeling she'd been waiting for us. I glanced back at the elevator, wishing I'd brought my cell. Richard might have texted back by now. Though the reception down here might be sketchy. We were way underground.
"We were concerned someone came down here." Cameron arched an eyebrow.
Scarlet's gaze slid over to me. "It's just us."
Cameron gestured. "Come here, Mia."
I took the few, short steps toward him, though my gaze stayed on Scarlet, wondering about that whip.
"Come look at this," he said. "Have you ever seen one of these?"
"What's it for?" The ornately carved crisscrossed post felt smooth beneath my touch.
He placed his hand over mine. "Want to see?"
Cameron looked fierce. The change in him so surprised me I didn't struggle when he took hold of my shoulders and eased me back against the bar.
"You stand here." He titled his head. "Well, the client does."
I almost lost my balance as he stretched out my left arm to the side. He used his weight to keep me there, his body pressed against mine as he secured my wrist inside a leather strap; tight. A thrill shot from my chest to my groin and I caught my breath. There came a waft of Cameron's light cologne; a balmy scent stirring my senses.
"I don't like it," I lied, unsure of these sensations awakening in my chest and shooting downwards, reaching that place where he'd touched me not so long ago. My lips trembled as my gaze fell upon his mouth.
"You're quite safe." Cameron tugged the straps. "It's good to have a feel for what our clients go through, right?" He secured my right wrist.
I resisted, though his strength overwhelmed mine. He tugged my wrist tight in its buckle.
A throb in my chest lulled me. Scared me. "Scarlet?" I looked to her.
She gave a nod of encouragement.
The elevator shuddered and the lift began its ascent.
"Let's pretend she's not here." Cameron pulled a thicker strap across my waist, buckled and yanked it. "In most sessions it would only be us two." He held his hand against my chest. "You're breathing way too fast. I don't want you to faint."
Mouth dry and thirsting, I tried to slow it down. "I have to get back to work."
"Thought you were finished for the day." He reached for my shirt button and undid it. His fingers moving fast on the others.
I screamed and he stepped back and laughed. "Not the shirt then."
"Not the shirt."
"Screams echo down here," he said. "We get that a lot."
Oh no...
His hand returned to my chest, pressing against it, his body close, his gaze boring into my mine with a fierce intensity. "What are you feeling?"
My eyelids fluttered shut, my heart beat way too fast. This desire intensified an ache sending spasms low and deep inside; a building pleasure. My nipples pushed against my bra, the hardened buds betraying me through my blouse.
"Very good." He leaned toward my ear and whispered, "That's what this one's for."
Another thrill of excitement shot between my thighs and I hated the fact he could tell. His fingertip brushed along my right forearm, pressing beneath the crux of my arm, sending a shiver up my spine.
"Cameron." I shuddered in response and twisted my wrists in their straps. "I can't breathe."
"Relax." He caressed my bottom lip.
I nipped at his thumb, my tongue tracing the tip.
His eyelids became heavy, his teeth clenched, his jaw tensing. "You are exquisite."
The elevator purred, getting louder, pulling his attention away for a second.
His dark stare found me again. "Has anyone ever told you that?"
"No."
He looked surprised. "Let me show you just how exquisite you are."
Cameron pressed his lips against my mine, bruising them, opening my mouth with his, daring me, capturing me with ferociousness. His erection pressed against my belly, and the pleasure and pain it would bring became all too real. Unable to push him off, I had no choice but to surrender, opening my mouth and going with him, drowning in the lightheadedness caused by his embrace.
This man was way out of my league, and yet he was here with me, seducing me, his velvety tongue tangling with mine. He'd called me exquisite. Made be believe it. This dreamlike moment was an impossible fantasy. A slow, steady throb of pleasure built as my moan entered his mouth, my tongue battling his, lost in this craving.
He pulled back slightly and held my gaze. "How do you feel?"
"Nice," I murmured, hating myself for saying it.
"Aroused?"
I gave a nod.
"Is your pussy nice and wet?"
I bit my lip, hard.
"Good girl." He gave an impressed smile.
"Cameron," snapped Richard.
I jolted back into the room.
Richard stood ten or so feet away, his face unreadable. Cameron glanced his way.
"Untie her," said Richard.
"We were exploring." Cameron found my gaze again. "Weren't we, Mia?"
"Now," said Richard.
Leaving me strapped in, Cameron stepped back. "Mia's been a verynaughty girl."
"So I see," said Richard.
About the Author:
Vanessa Fewings (aka V.M.K. Fewings) is the award-winning author of The Stone Masters Vampire Series. Her first erotic novel, Enthrall, will be released later this summer. Prior to publishing, Vanessa worked as a registered nurse and midwife. She holds a Masters Degree in Psychology. She has travelled extensively throughout the world and has lived in Germany, Hong Kong, and Cyprus. Born and raised in England, Vanessa now proudly calls herself an American and resides in California with her husband.
Visit Vanessa Fewings Online